Laser Raman and AFM Facility
Welcome to the Raman spectroscopy facility of IISER Mohali. Our Renishaw Raman spectrometer is equipped with three lasers (488/514 nm, 633 nm and 785 nm), a Leica microscope with 5X, 20X, 50X, 100X objectives, high-resolution gratings (1200 lines/mm and 1800 lines/mm for NIR and visible, respectively) and a highly sensitive CCD camera.
Laser micro-Raman spectroscopy facility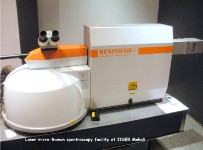 We accept solid and liquid samples for Raman analysis. For liquid samples and for Raman imaging, please contact us prior to sample preparation and submission. Please download the following form, fill out and submit along with the samples. For external samples, we charge INR 5,000 per sample for Government institutions and INR 10,000 for Industry samples. Users are requested to bring their own CDs/DVDs to copy the data.

Sample submission form

Atomic Force Microscopy facility
Welcome to the Atomic Force Microscopy (AFM) facility of IISER Mohali. Our Nanonics AFM is equipped with an extremely sensitive tuning fork feedback and glass probes of 10-20 nm diameters. We can perform nanoscale imaging for both materials and biological samples under dried condition. Please contact us for sample preparation and deposition onto appropriate substrates. We charge INR 10,000 per sample. Users are requested to bring their own CDs/DVDs to copy the data.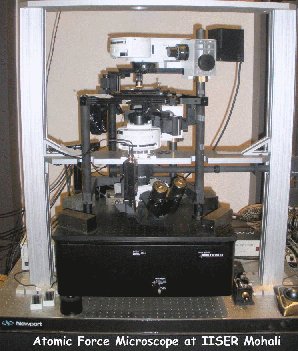 For more information contact:
Dr. Samrat Mukhopadhyay
IISER Mohali, Central Analytical Facility Building
Sector 81 Mohali S.A.S. Nagar Punjab 160062 India
Telefax: +91-0172-2790188
Email:   mukhopadhyay(AT)iisermohali.ac.in
Last Updated: