Dr. Ananth Venkatesan
Associate Professor, Physical Sciences


Email

ananthv(AT)iisermohali.ac.in

Phone

+91 172 2293106

Fax

+91 172 2240266

Personal Page

My webpage                                                 

Research Area


Mesoscopic Electronic & Electromechanical systems



Research Focus

Mesoscopic Physical systems are systems whose dimensions are neither macroscopic like (everyday objects ) nor microscopic (say on the scale of individual atoms or molecules). I am an experimentalist working on mesoscopic systems like nano-electro-mechanical systems (NEMS) and nano-scale electronic devices defined by gating 2-D electron systems. The physical problems of interest are typically studied at ultra-low temperatures. Shown below is a Scanning electron micrograph of a doubly clamped gold beam fabricated and studied during my Post-Doc at Nottingham.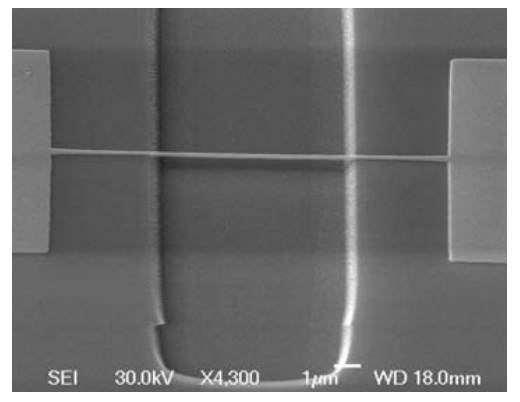 The beam is ~200nm wide 80nm thick and several microns long and is like a nano-scale guitar string. But unlike guitar strings which resonate at audio frequencies these beams have resonant frequency ranging from radio-frequency to microwave frequencies depending on the material and dimensions. At low temperatures the possibility of observing macroscopic quantum phenomena makes NEMS as a very attractive physical system. At IISER I will be setting up a low temperature lab and various fabrication facilities to study NEMS and 2-D electron systems.


Selected Publications
S. Anissimova, A. Venkatesan, A. A. Shashkin, M. R. Sakr, S. V. Kravchenko, and T. M. Klapwijk "Magnetization of a Strongly Interacting Two-Dimensional Electron System in Perpendicular Magnetic Fields" Phys. Rev. Lett. 96,046409(2006).

S. M. Frolov, A. Venkatesan, W. Yu, J. A. Folk, and W. Wegscheider "Electrical Generation of Pure Spin Currents in a Two-Dimensional Electron Gas" Phys. Rev. Lett. 102, 116802 (2009).

A. Venkatesan, K. J. Lulla, M. J. Patton, A. D. Armour, C. J. Mellor, and J. R. Owers-Bradley, "Dissipation in a Gold Nanomechanical Resonator at Low Temperatures" J. Low Temp. Phys. 158, 685 (2010).

A. Venkatesan, K. J. Lulla, M. J. Patton, A. D. Armour, C. J. Mellor, and J. R. Owers-Bradley,"Dissipation due to tunneling two-level systems in gold nanomechanical resonators" Phys. Rev. B81, 073410 (2010).

Last Updated: