Student Activities
Student Clubs at IISER Mohali
Literary and Debating Society (DebSoc)
Regular activities of the club:
Conducting mock parliamentary debate sessions once in every week or two weeks.

Participating in debates outside of IISER, in other fests mostly.
Recent activities of the club
Conducting parliamentary debate learning sessions.

Conducting mock parliamentary debate sessions.

Holding a writing competition by the name "Collage".

Conducting an event in the IISER Mohali cultural fest Insomnia 2015,by the name "Prometheus", which was an English-medium speaking based creative event, where the participants had to perform various tasks given on the spot.

Conducting an online event for the same, by the same name.

Preparing for restarting the IISERM magazine, 'Manthan'.
Aim of the club
[We fulfilled some of them this year, hope to fulfill more in the future]:
Preparing good debaters (Medium: English).

Holding debate workshops (depends on budget).

Participating in more literary fests outside.

Making "Prometheus" a regular in-house as well as inter-college event.

Restarting IISERM Magazine and keep it going annually.

Holding discussions on recent activities in IISER(s), and the important events around the world.

Holding discussions on good books and/or movies and their connections to/influence on us.

Forming a nice culture where you learn to express yourself in English through writing/speaking.

Spreading IISER's name through English media.

Changing the name of the club from DebSoc to something which includes the literary components.
Photography and Videography Club (PnV Club)
The IISER Mohali Photography and Videography Club was formed as a student club under the aegis of the Institute to provide a platform for the students interested in the extra- curricular activities relating to photography and videography.
For the academic session of 2014-15, the responsibility of the club was entrusted to Tarunkishwor Yumnam and Ayushi Singhania as convenor and co-convenor respectively, by the end of September, 2014. Under the guidance of our faculty co-ordinator Dr. Parth Chauhan with the support from the student community, many club activities were organised which are briefly described below:
The Club jointly organised a

Bird-Walk with the Biology Discussion Forum on the eve of Rashtriya Ekta Divas, 31

st

October, 2014

The club organised the first photography competition themed NATURE for the session

2014-15 as a part of the cultural evening. Prizes of total

₹

4,500 were distributed to the winners decided by the ex-convenors of the club – Manish Pareek, Hitesh Gakhar and Sujoy Mukherjee.

On the day of cultural evening, the club organised the first photographic exhibition of IISER Mohali, in which 24 photos were exhibited for three days.

As a part of Darwin Day, the club, in association with BDF, organised a photography cum exhibition on the theme 'Wildlife'.

The Club was honoured to cover the 3

rd

IISM (Inter IISER Sports Meet) hosted by IISER Mohali.

In December 2014 and January, 2015 a team of the club members produced a short film 'Maathra' which was nominated in the top 20 category of Manorama Online Campus Short Film Fest Season 4 (CSFF). The final results are awaiting.

As a part of INSOMNIA 2015, the club organised the first edition of 'The THIRD EYE', an open National Photographic Competition with over 120 entries from over 10 states. The competition was judged by the founder of Photowalk Dubai, Subodh Shetty whose images ave been published in National Geographic.

The club also organised two on the spot photo contest during INSOMNIA 2015.

A team of three members of the club produced a documentary on our library to be screened during

11th Annual Meet and Workshop of

INDEST-AICTE

Consortium at IISER Mohali April

29-30,

2015

.

The club is now planning to establish an online database of documented images of student activities and the many events the institute and the student communities have organised, during the Summer Break.
Dance club - Raqqs
Raqqs, the dance club at IISER Mohali aims at encouraging the students community for dance art and providing them platform to express themselves. Raqqs, which stands for a professional(female) dancer, has progressed beyond its meaning over the years due to the overwhelming response and support from the students community and faculty. The club has witnessed active participation from undergraduates and graduates. Currently, Raqqs has more than 60 active members which keep growing each semester. The club has organised various activities, regular Kathak dance classes, hip-hop dance classes, flash mob for the promotion of Insomnia- IISER Mohali's annual cultural and science festival, to name a few.
Raqqs has always been an integral part of the various cultural programs happened at IISER Mohali which include celebration on Independence day and Republic day, Onam celebration, cultural evenings. The club plays an important role in various dance events which take place during the Insomnia.
Since January 2015, club has its own dance room equipped with mirrors and music system which has helped students perform on a professional level. The Club hopes to reach maximum students and offer them an experience to feel the hidden language of soul.
"Let us read, and let us dance; these two amusements will never do any harm to the world."    ---Voltaire

Raqqs Gallery
Astronomy Club

The Astronomy club at IISER Mohali conducts regular talks and interactive sessions with various astronomers from the institute itself and other institutes as well.

We also conduct quizzes and organized a telescope workshop as well during the winter vacation of 2014. We also take part in monthly coordinated skywatch sessions which are conducted all over the country.

Mathematics Club
The Mathematics Club at IISER is a students' initiative to promote mathematical discussion and debate among the students.It aims to be a platform for people to communicate their mathematical interests so that others, too, might share their excitement.In short, we, at Mathematics club, do solitary contemplation.
Regular Activities
Weekly Student talks

Paper Discussions

Movie Screenin
Seasonal Activities
Funds and prizes such as mathematical weekends, Fresher Quiz, Turbulence (a quiz series).

In the past, the Club has organized such mathematical weekends with the help of the Mathematical Sciences Department. Needless to say, student participation is an indispensable aspect of any activity executed by the Mathematics Club. We have had it in the past we hope for more in the future.
Intellectual Promoters Guild - IPG Club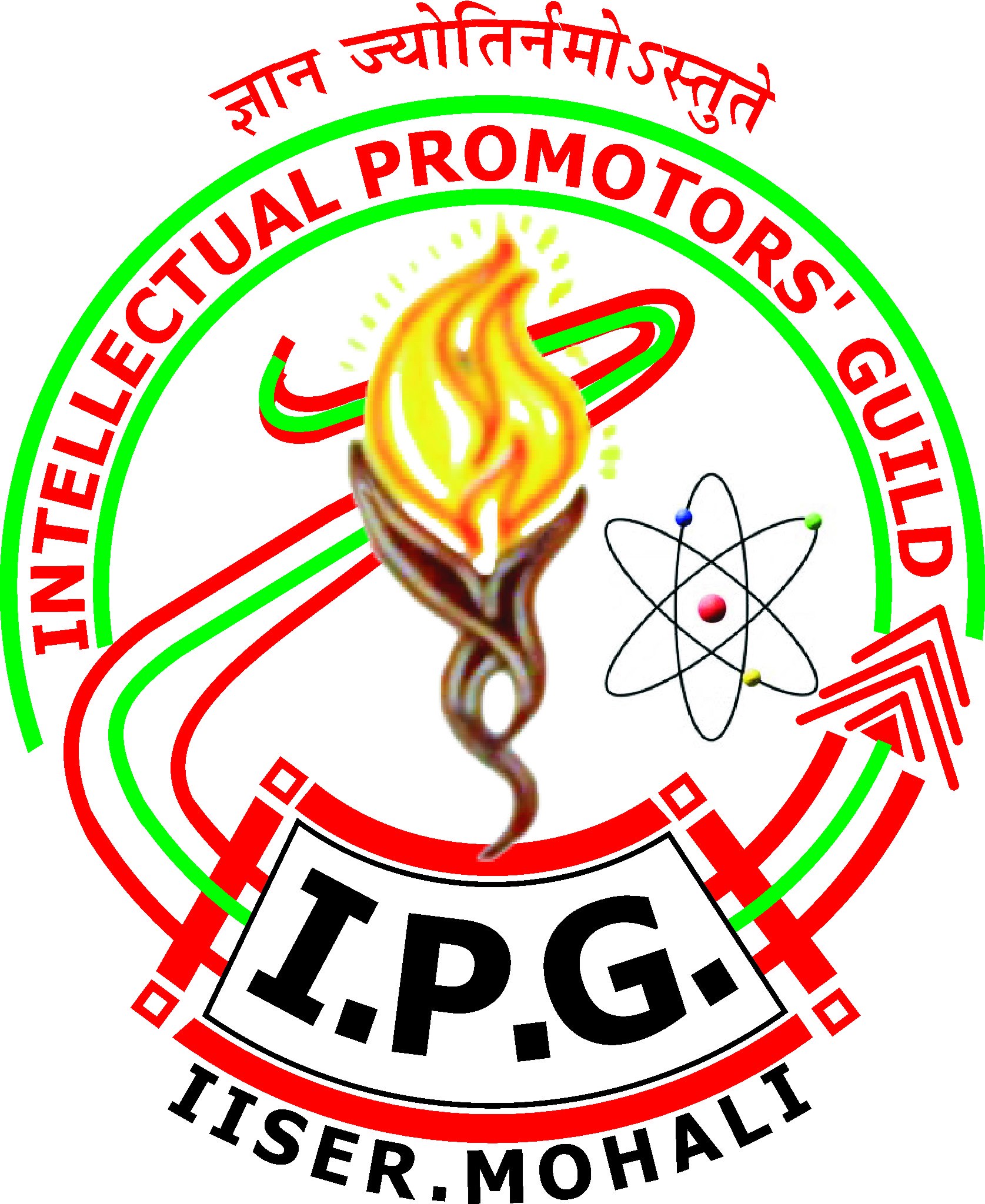 Objectives of IPG Club

To inculcate interest among students for basic science and to make them aware of the various possible career options in this field since their school level. This will allow students to choose career as per their interests. It will also relax the excess pressure from the popular fields of engineering, medicine.
Biology Discussion Forum (BDF)
Year 2014-2015
Convener: Ritu Roy Chowdhury
Co-convener: Harshavardhan Thyagarajan

Faculty Coordinator: Dr. Nagaraj Prasad

The IISER-M BDF (Biology Discussion Forum) is a student based group dedicated to facilitating informal discussions, talks and lectures on current biology. Typically, once a week, we organise student talks (by IISER-M students who are working on, or have worked on some particular topics), lectures (by visiting scientists), and the occasional nature walk (our campus is a haven for ornithologists) with the hope that we can broaden our understanding of the subject, to bring to our attention new developments and ideas that are constantly flooding the field of Biology. We work in close relation with some of the other clubs on campus, like the Curie club (for Chemistry lovers), the Math club, phi@I (for Physics), IMQC (the quiz club) and the Photography club; with many overlapping talks and events.
IISER-M BDF is also proud to have organised the celebrations for the 2014 International Darwin Day, which makes us one of the only 4 institutes in all of Asia to be on the World map on this occasion.

All said and done though, we are simply a bunch of geeks who love to sit down and talk about ideas, and in this group we talk about Biology.
BDF Gallery
Photos clicked by Ritu Roy Chowdhury & Harshavardhan Thyagarajan

Dramatics Club - Darpan

Darpan, the dramatics club of IISER Mohali, provides a platform for all those who love to watch and read theatre, to showcase their talents. As a team, we have performed dramas at different places and on different issues and genres. The club is'nt just for those who are interested in acting on stage; there are a lot of other things one can participate in, like script writing, backstage technicalities, props set up and music which are equally important for a successful drama. Basically, we are a bunch of overdramatic people who like to perform and end up having a lot of fun in the process and in the end, also manage to entertain the audience.
Club activities
a) IIT ROPAR fest - We performed the drama BAHUT BADA SAWAAL at IIT ROPAR fest for which we got a certificate of participation.
b) CULTURAL EVE - We performed the drama 'DON T TRY, JUST DIE' which was an adaptation of movie "Hemlock Society"
c) REPUBLIC DAY - We performed the drame "One at a time" which dealt with issue of media hype on rape incidents and how in the process of making high TRPs, the stories are manipulated.
d) INSOMNIA PROMOTION - We performed a nukkad natak (street play), in sector 17 Chandigarh for promoting our annual cultural fest INSOMNIA.
e) INSOMNIA - We performed two events, the stage play and the street play for our annual cultural fest, for which we got great participation from other colleges and an overwhelming response from the audience. Darpan team bagged second prize in the stage play competition.
Darpan Gallery
Physics Club
| | |
| --- | --- |
| | PHi@I |
Phi@I, The Physics Club of IISER Mohali, is one of the oldest clubs of IISER Mohali. Its aim is to increase interaction of students with the relevant stuff of Physics through a number of events organized by Phi@I club. It organizes Talk series, interactive sessions, Lab Visits, Schrodinger Week Events, celebrates birthdays of renowned physicists with some events and much more.
For regular updates visit: Phi@I
Events Organised By Phi@I

Phi@I organises different events for IISER Mohali community. We encourage participation from all departments.

10th March, 2017
Talk by
Prof Pratap Rachaudhuri,
Bhatnagar Awardee, DCMPMS, TIFR

February, 2017
Talk by
Dr. Prof Sushanta Dattagupta,
FNA, FNASc, FASc, FTWAS and
Former Director, IISER Kolkata

September, 2016
Talk by Dr.Satyajit Jena
Asst Prof, IISER Mohali

August, 2016
Schrodinger's Week
Team

Faculty Co-ordinator - Dr. Arvind
Convener - Pushpender Singh, MS15
Co-convener - Deesha Divicha, MS15
Senior Member - Ankit Labh, MS13
Senior Member - Gaurav Saxena, MS12
Former Convener - Ishita Katyal, MS13
Former Co-convener - Rishabh singh, MS14


Contact
phyclub(AT)iisermohali.ac.in
phyclubiiserm(AT)gmail.com


PHi@I Gallery


Last Updated: